Description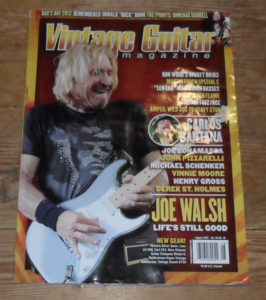 August 2012 issue of the American magazine, Vintage Guitar.
Each issue has a variety of articles about vintage and old guitars, guitar collecting, interviews, news and lots more.
Featured in this issue are Joe Walsh, Carlos Santana, Joe Bonamassa, Musicman basses, Ronnie Wood's Hiwatt DR103 and many other articles and features.
The magazine is in good condition, with some marking and wear to the cover and corners (see photo).
We will ship worldwide.. UK is only £2, Europe is £4, America and Canada £5..all other Countries please email for a quote.