Description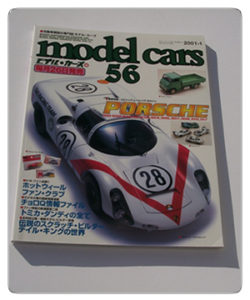 2001 issue 1 of the Japanese language magazine, Model Cars.
Each issue is printed on high quality glossy paper in full colour and is, on average, 160 pages.
Each issue has features on model kits, die cast cars, Hot Wheels, real cars and kit building.
The feature article in this issue is different model kits of the Porsche mid engined race cars..the 550/904/906/907/908/910 and 917.
The magazine is in excellent condition, with very little marking and wear to the corners (see photo).
These magazines are heavy, so postage costs are a little more than other magazines we sell.
Check the shipping rates tab at the top of the page for details