Description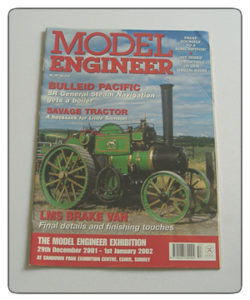 Vol 187 Issue 4157 2001 of the British Magazine, Model Engineer.
Each issue has a variety of features, machinery tests, tips, how-tos and articles about model engineering.
Features in this issue include Bailey's Bee: a vertical concentric hot air engine (new series), general steam navigation, aligning lathe centres, Savage's Little Samson, a 20 ton LMS brake van in 5in gauge and weight driven egg timer.
The magazine is in good condition, with very little marking and wear to the corners (see photo).
We will ship worldwide..UK postage is £1, Europe is £3, America and Canada £4..all other Countries please email for a quote.