Description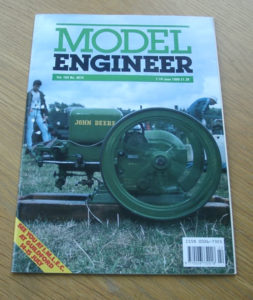 Vol 164 #3874 1st June 1990 of the British Magazine, Model Engineer.
Each issue has a variety of features, machinery tests, tips, how-tos and articles about model engineering.
Features in this issue includes Turbine experiments in France (part 2), Green Arrow – 5 in. gauge V2 locomotive (part 17), Borderer – twin cylinder marine steam engine (part 7), Oscar – 0-4-0ST gauge "1" locomotive and track (part 4), Hydraulic Pumping Engine – full-size and model (part 1), Superba and Z7S ploughing engines in 2 in. scale (part 22), Pickering Governors – history and practice, full-size and model (part 3), 1831 Transmission – getting the power to the wheels on an i.c.locomotive (part 3), Kit out a Unimat – small lathe upgraded (part 6), Patternmaking with Minicraft (part 5) and Vee Twin Engine – miniature motor cycle engine (part 2).
The magazine is in good condition, with very little marking and wear to the corners (see photo).
We will ship worldwide..UK postage is £1, Europe is £3, America and Canada £4..all other Countries please email for a quote.