Description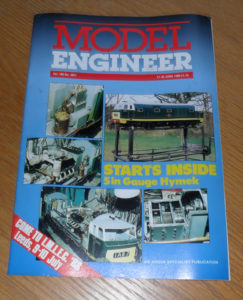 Vol 160 #3827 17th June 1988 of the British Magazine, Model Engineer.
Each issue has a variety of features, machinery tests, tips, how-tos and articles about model engineering.
Features in this issue includes Trevithick's Dredger Engine – a 1/16 scale model (part 10), vertical milling (part 1), Passenger comfort and safety (part 6), "Hymek" scratch built diesel locomotive (part 1) and many other articles.
The magazine is in good condition, with very little marking and wear to the corners (see photo).
We will ship worldwide..UK Postage is only £1, Europe is £3, America and Canada £4..all other Countries please email for a quote.