Description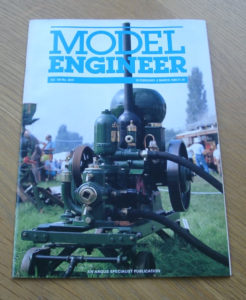 Vol 160 #3819 19th February1988 of the British Magazine, Model Engineer.
Each issue has a variety of features, machinery tests, tips, how-tos and articles about model engineering.
Features in this issue includes Trevithick's Dredger Engine a 1/16 scale model (part 6), Advice on Buying a First Lathe, Metal Bending – a simple bending machine (part 1), Natal a 3 1/2 in. gauge S.A.R. class 16DA locomotive (part 14), Matador on a Peatol (part 1) and Modifying the Tantec – into a self-contained linisher.
The magazine is in good condition, with very little marking and wear to the corners (see photo).
We will ship worldwide..UK Postage is only £1, Europe is £3, America and Canada £4..all other Countries please email for a quote.