Description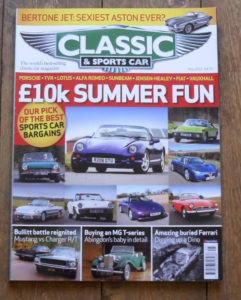 May 2013 of the British Magazine, Classic and Sports Car.
Each issue has a variety of features, car road tests, mechanical how-tos and articles about collectable, rare, old, classic and collectors cars.
The cover feature of this issue is summer cars for £10k. Other articles include items on the Ford Mustang vs the Dodge Charger R/T, a buried Ferrari Dino, MG TA – TF series, Lotus Eclat, Porsche 924, Alfa Romeo Alfetta, Mazda RX7 and many more.
The magazine is in good condition, with very little marking and wear to the corners (see photo).
We will ship worldwide.. UK is only £2.50, Europe is £6, America and Canada £10. All other Countries please email for a quote.