Description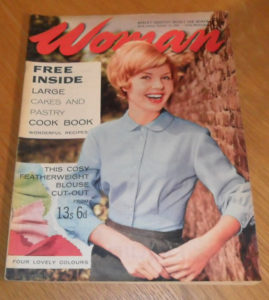 Woman magazine, dated October 15th 1960
Woman is a weekly British magazine featuring articles on fashion, cooking, knitting and dress-making, family life and short stories and serials.
Fiction in this issue is as follows:
"The Final Diagnosis" by Arthur Hailey (serial)
"Mistress of Mellyn" by Victoria Holt (serial)
"Middle Road" by Sheila Frazer
The magazine is in good condition, with only some marking and wear to the corners (see photo).
We will ship worldwide.. UK is only £2, Europe is £4, America and Canada £5..all other Countries please email for a quote.