Description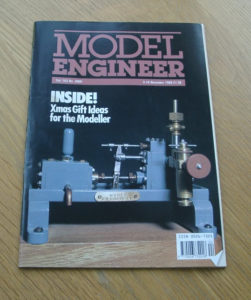 Vol 163 #3860 3rd November 1989 of the British Magazine, Model Engineer.
Each issue has a variety of features, machinery tests, tips, how-tos and articles about model engineering.
Features in this issue includes a Rack Saw bench 1 1/2in scale model (part 2), Phoeboscope – an accurate sundial (part 1 ), Green Arrow 5in gauge LNER 2-6-2 class V2 loco (part 5), Superba 2 inch scale model of the Fowler Z7 series (part 16), Hardness tester (part 5), Mermaid – the engine for Neddy (part 5) and much more.
The magazine is in good condition, with very little marking and wear to the corners (see photo).
We will ship worldwide..UK Postage is only £1, Europe is £3, America and Canada £4..all other Countries please email for a quote.