Description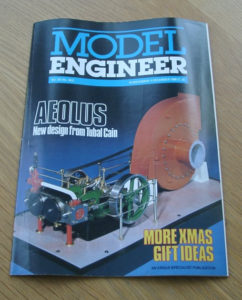 Vol 161 #3837 18th November 1988 of the British Magazine, Model Engineer.
Each issue has a variety of features, machinery tests, tips, how-tos and articles about model engineering.
Features in this issue includes Aeolus – a model steam driven blowing fan (part 1), Making Tracks – ground level permanent way (part 4), Hymek scratchbuilt "diesel" locomotive (part 6), Screwcut Autotrip for the Myford ML10, Nigel Minor – G.N.R. 2-8-0 class 01 locomotive for 2 1/2 in. gauge (part 8), Truing a 3-jaw- workshop hints, Cranes – one man's enthusiasm (part 2), Vertical Milling Machines (part 6) and Charles – Computer aided boiler design (part 2).
The magazine is in good condition, with very little marking and wear to the corners (see photo).
We will ship worldwide..UK Postage is only £1, Europe is £3, America and Canada £4..all other Countries please email for a quote.